To prevent the ingress of oily liquids, water, dust, dirt, salts, or other contaminants into your electronics, OxySeal® pressure compensation units can be deployed as an easy plug-and-play venting solution for housings having inverted cylindrical openings. Using hydrophobic track-etched membranes, these injection molded plugs – which can also be treated to be oleophobic – are composed with a thermoplastic elastomer seal that does not require an additional anchor or fastener to ensure a tight fit.
Beyond its standard portfolio, OxySeal® can also be fully customizable. This includes selection of the dimensions, shape, and membrane properties specific to your application's requirements.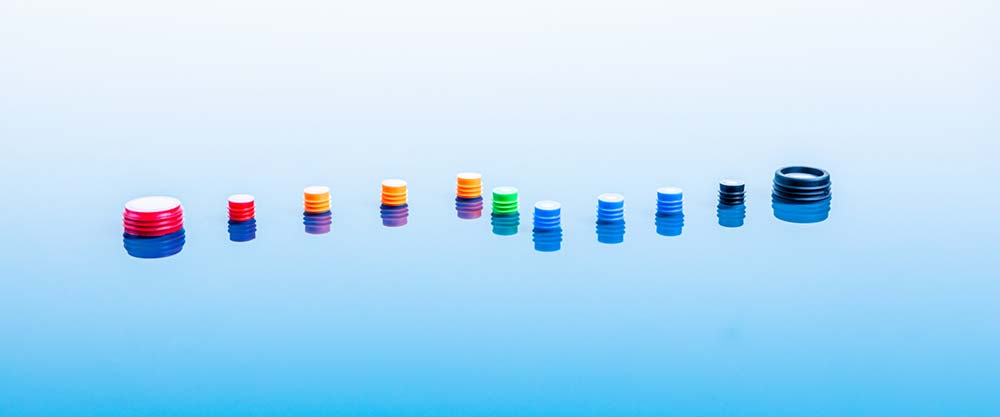 100% Free of PFOA: Compliant with (EC) 1907/2006 REACH / Regulation (EU) 2019/1021 POP
Single unit combining membrane and sealing ring
Simple plug-in assembly
Suitable for automation
100% visual control
Fully customizable
| | | | | |
| --- | --- | --- | --- | --- |
| a) Outer dia. Ø [mm] | 3.1 | 6.2 | 13 | 12 |
| b) Height [mm] | 3.26 | 4.6 | 5 | 3 |
Sealing body: Thermoplastic elastomer
Membrane: PET with hydrophobic coating (with or without lamination)
Dimension
Specifications
Temperature range (TPE high temperature)
– 40 …. + 150° C
Temperature range (TPE standard temperature)
– 40 …. + 120° C
Hydrophobic/ Oleophobic treatment:
Grade up to 7.5; AATCC TM 118
– Salt spray resistance test2
According to IEC 60068-2-52, based on
validation by the customer
– Temperature resistance test1
In accordance with ISO 16750-4
– Ice water shock test1&2
In accordance with ISO 16750-4
– Climate resistance test
In accordance with ISO 16750-4
– Chemical resistance test1
According LV124/ ISO 16750-5
– IP Protection1
IP 64/65/66/67/68, according to DIN 40050
1 Testing in Progress
2 Based on Customer Validation Highlighted Case Study
Automotive Tail-Light Venting
A manufacturer of automotive lighting equipment reached out to Oxyphen to develop and design a hydrophobic membrane venting solution that would address their needs around ingress protection, adequate airflow to prevent condensation, customized temperature stability requirements, and meet PFOA-free properties without compromising liquid repellence performance.
Related Resources
Register for our On-Demand Webinar
Delivering Precision & Control: An Introduction to Track-Etched Membrane Technology
Related Products
Membrane Technologies Available
Contact Us
Interested in speaking with one of our track-etched membrane experts?